Discover a unique retail experience in the heart of Port Macquarie
At Meg + Me Boutique & Espresso, we love sharing our passion for quality fashion, homewares, gifts, accessories and of course coffee with each and every visitor, whether that be in person, or here online...
Find Your Style
Fashions Fade. Style Is Eternal.
We believe that 'fashion' should be timeless, and that investing in quality pieces is the key when building your style wardrobe.
Our collection of must-have pieces are carefully selected to ensure that every item is a long-lasting classic that will never go out of style.
Welcome Home
We believe that your home should be a reflection of your unique personality and style.
Shop our carefully curated collection of cushions, homewares, home fragrance and personal care to help you create your ultimate haven at home.
Glasshouse Fragrances Limited Edition
Get into the festive spirit and shop these iconic Glasshouse favourites while you can!
al.ive body
purposeful everyday luxury
The al.ive body range is the ultimate combination of contemporary clean aesthetics and highly functional purposeful design.
This proudly Australian-made brand has a dedication to sustainability that extends all the way from the original concept down to the ingredients they choose.
At al.ive body, luxury is purposeful, beauty is conscious, and every product is an invitation to elevate your ordinary into the extraordinary...
meg+me gift voucher: the gift of choice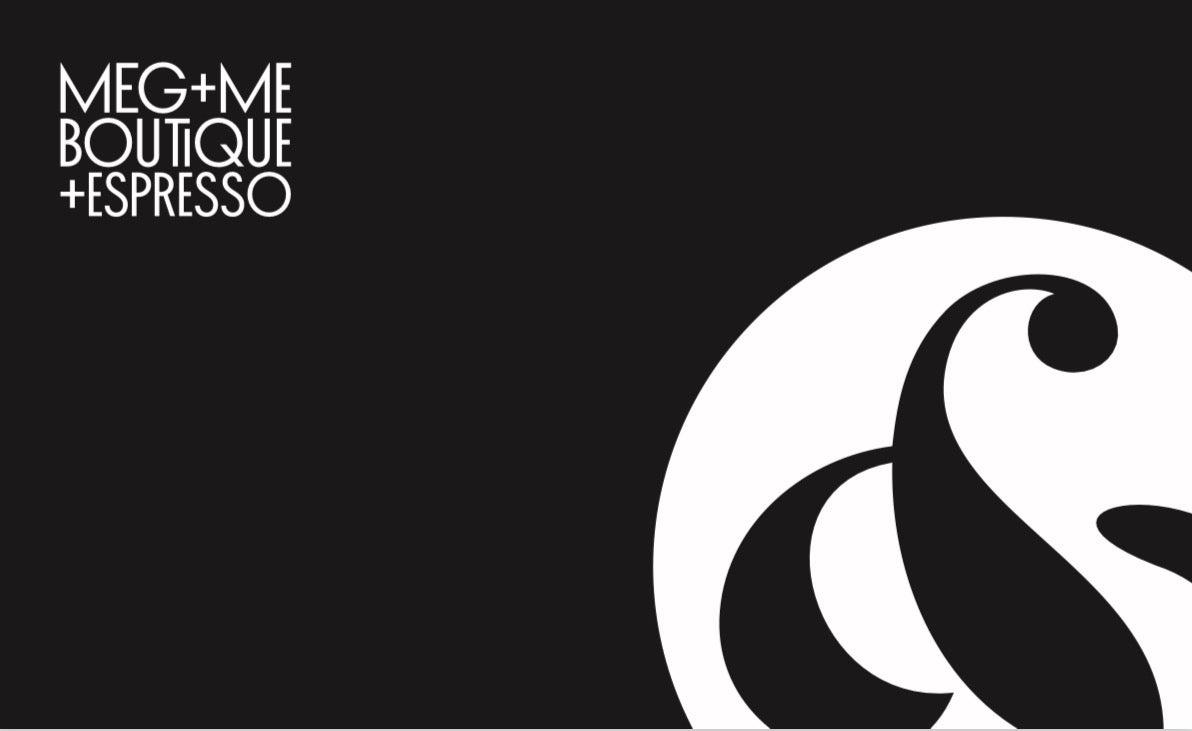 give the ultimate gift - the gift of choice with a Meg+Me gift voucher!
What Our Customers Are Saying...
Great online experience! Gorgeous Zoe Kratzmann shoes that were stocked in a large size, with personalised messages before and after the sale from Lusanna. Even a welcome text message enquiring if I would like to reduce the recyclable box packaging before posting. Will definitely shop again!
My absolute favourite boutique in Port Macquarie! A must visit if you are here. Superb range of clothing, jewellery and homewares. And the ladies are just lovely!! I will look forward to visiting again when I'm next in Port Macquarie.
A beautiful little shop where I bought a gift plus a few lovely things for myself. I'd return in a heartbeat. The girls were lovely & even gift wrapped my purchase!
Meg & Me is a stunning shop that has a range of wonderful things. Great for all types of shopping including for gifts, clothes, coffee, homewares and things to treat yourself with. We always visit Meg & Me when in Port. Great service too!
Meg & Me is really an Emporium. It is unique in Port Macquarie and my favourite place to bring visitors. My sister-in-law from Sydney went berserk. I love being able to shop for clothes, decor and gifts. They make great coffee and stock the best tea on the market: I'm going to ask them to order in the African Sistine blend. I love that they stock eminently wearable, stylish, elegant casual wear that you can wear anywhere.
Meg & Me is a delightful shop with a cafe attached, filled with excellent quality clothing, homewares and jewellery. It is my go-to for gifts. The staff are wonderful, and go out of their way to help you.
We are so fortunate to have this fabulous boutique in our hood! Lus curates a gorgeous range of brands and items. All of the team are such a pleasure to deal with, and Ant makes a damn fine coffee!
Love my Dricoper jeans and Pol jumper. Meg was very helpful and lovely. Megandme is a beautiful shopping experience. Being new to Port Macquarie I was really excited to find a boutique I will be visiting regularly. Thank you
I must say that Meg & Me is the best boutique in Port Macquarie! I have recently bought several items from them and Meg is always friendly, helpful and lovely in every way. I adore my new necklace and matching earrings and looking forward to wearing the shimmery silver green dress at an upcoming event. I feel lucky to live only 3 minutes walk away from the shop so can just pop in whenever I pass by. Thank you Meg & Me!
LET'S get social!
Follow Meg + Me on Instagram and tag
@megandme.com.au
to share your purchases!